Are you using Linktree but worried about how it affects your SEO?
Linktree has become one of the most popular link-in-bio solutions, with hundreds of users adding it to their social profiles. But this convenience comes at a SEO cost you may not realize.
In this article, I'll explain how Linktree can hurt your SEO. I will also suggest an alternative SEO-friendly solution to build your link-in-bio pages and boost rankings.
Why Is Linktree Bad for Your SEO?
Linktree shot to popularity as a quick and easy way to fit all your links on one page. But did you know that behind this convenience lacks the SEO features that could hurt your brand on the search engine?
Let's dig deeper into three key areas where Linktree falls short when it comes to search engine visibility. Trust me, understanding these shortcomings will help you choose a better alternative that gives your link-in-bio page a serious SEO boost.
1. Limited SEO settings
When it comes to Search Engine Optimization, there's more to it than just adding a meta title and description. Unfortunately, if you take a look at Linktree's pricing page, you'll notice that it offers quite limited SEO features. In fact, the only SEO features they offer are the ability to set the title tag and meta description. But, even these features are restricted to their Pro and Premium plans which is not ideal.

2. No Custom Domain
The lack of a custom domain means that your Linktree page is hosted as a subdomain on the linktr.ee domain instead of your own domain. This means that Linktree benefits from all the high-quality backlinks to your bio site.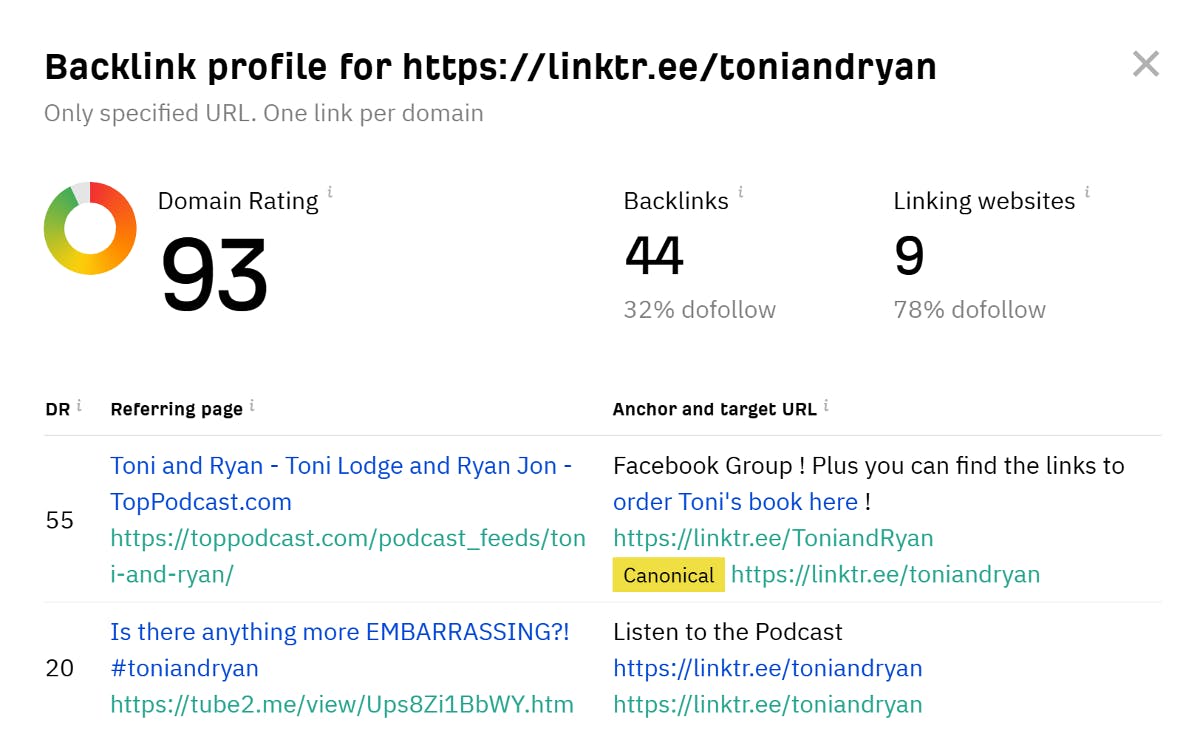 Some suggest setting up a redirect from your own domain to your Linktree page, hoping it will solve the issue. However, this approach doesn't actually solve the problem, as Google still recognizes the Linktree domain rather than your own.
3. Linktree Gets All the Traffic
Any visit to your Linktree profile goes to Linktree's site rather than your own domain. This hands over authority and traffic that would better serve your brand by going directly to your owned assets.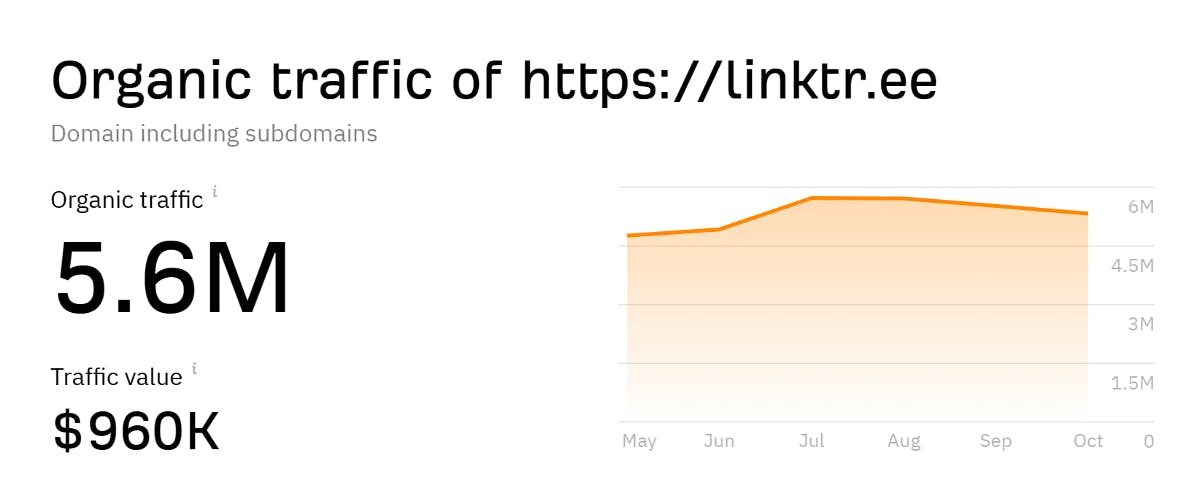 Should You Build Your Linktree Page on Your Own Website?
Building your link in bio page on your own domain comes with numerous SEO and customization benefits. One major advantage is that it allows keeping link authority on your own website rather than being passed off to Linktree's domain.
Hosting the page yourself also allows you to add Google Search Console and Google Analytics, which gives you data and insights on organic traffic.
From an optimization standpoint, using your own site lets you use SEO plugins to add schema markup, Local SEO metadata, OpenGraph tags, and more. These enhancements provide search engines and social media with additional structured data about your link page. The flexibility of self-hosting gives you full control over SEO in ways Linktree simply doesn't offer.
Now that we have a clear understanding of why a self-hosted bio link is more beneficial from the SEO standpoint, let's look at how to create it using the Social WordPress plugin.
How To Create a Link-in-Bio Page Using Social on Your Own Website
Social is a Linktree alternative WordPress plugin for creating a customizable link-in-bio page on your own website.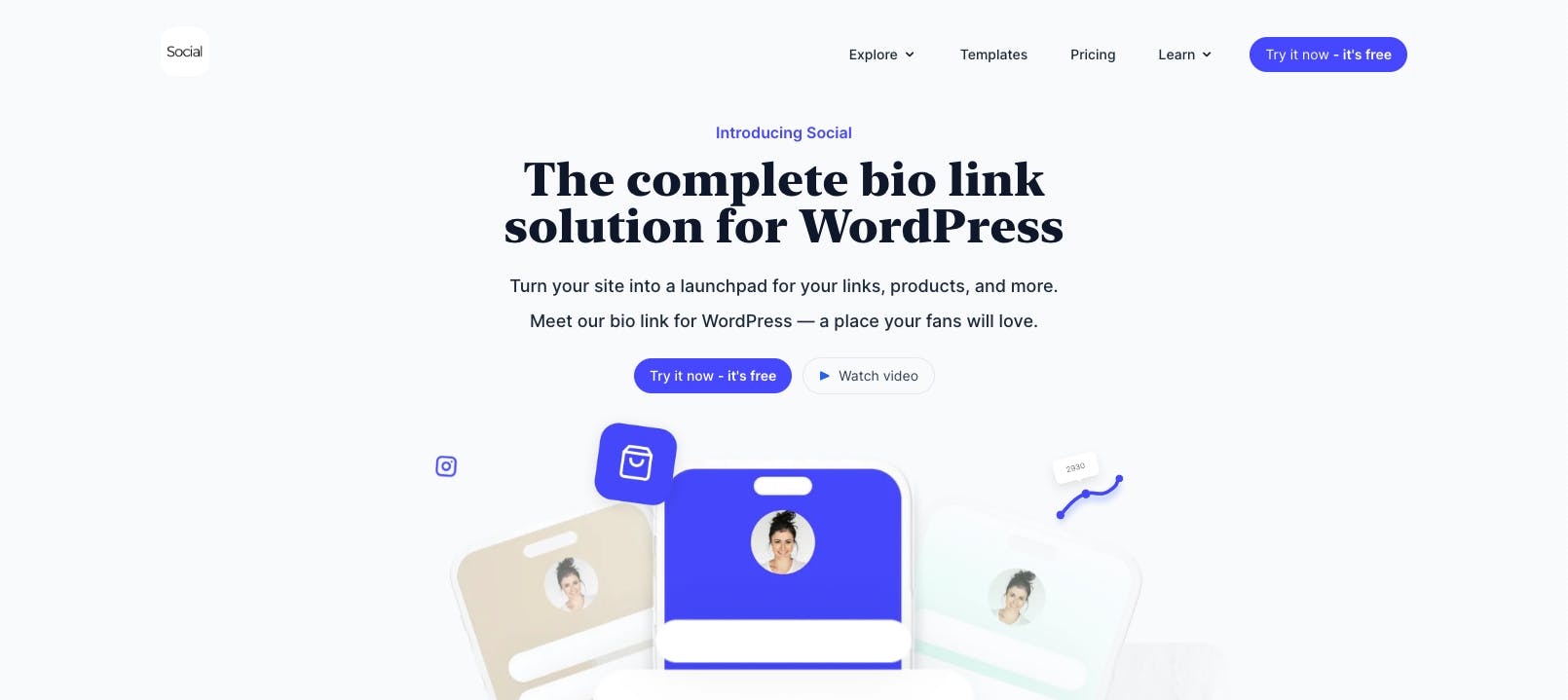 It lets you easily:
Create an eye-catching, on-brand link page with prebuilt templates.
Customize layouts and color schemes.
Embed videos, collect donations, add contact forms, share your latest blog posts, and more.
Obtain detailed analytics of your links.
Organize links into sections.
As Social is a WordPress plugin, it requires you to have your own domain and hosting. If you're unsure about how to set this up, we have a comprehensive guide on creating a link in bio page using WordPress.
SEO Optimize Your Link in Bio Page
Social includes a few SEO settings out of the box. You can access them by navigating to Settings → SEO and clicking the three dots (⋯) to open the Advanced menu. In the menu, click the Custom meta option and fill out the meta title, description, and image of your bio link page.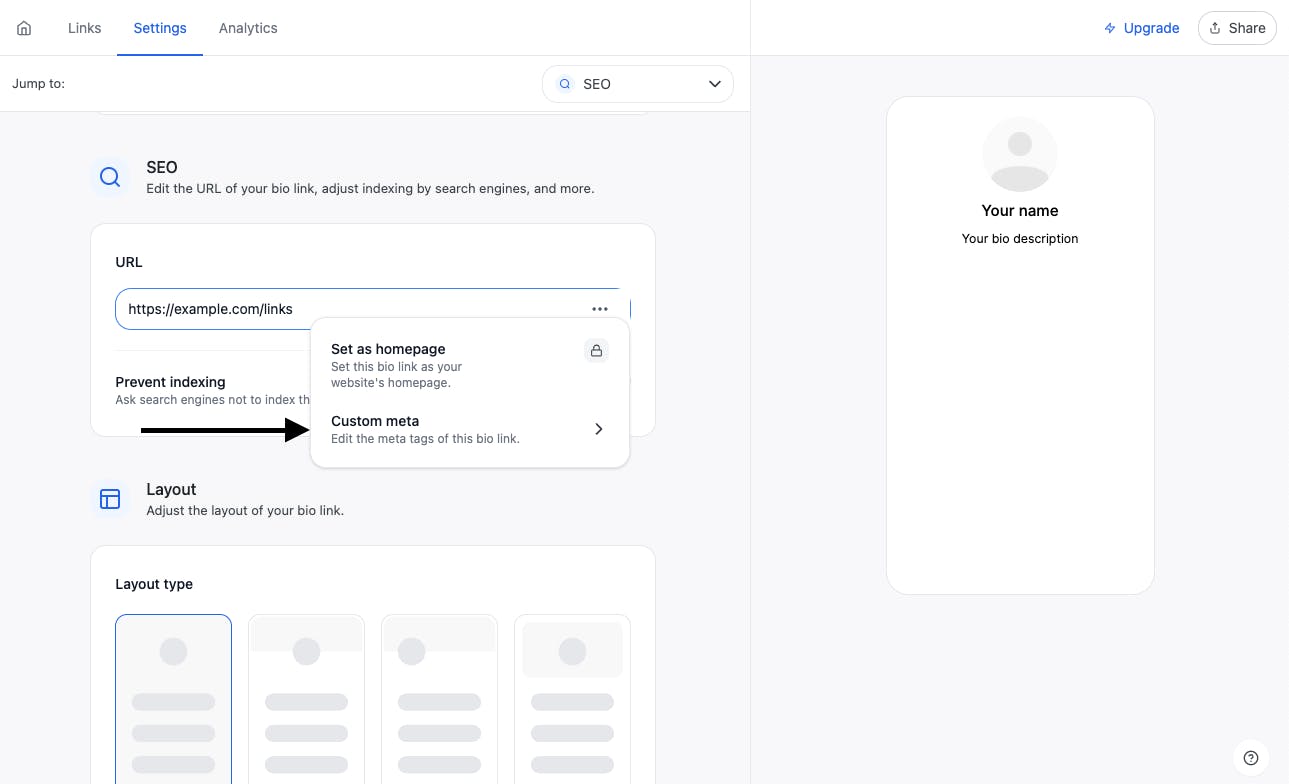 But that's not it. One of the great advantages of using WordPress is the availability of plugins that can help optimize your link in bio page for SEO. One popular WordPress SEO plugin is Rank Math SEO.
Rank Math SEO is a free SEO plugin that offers a range of features to help improve your website's visibility on search engines. Just like the Social plugin, you can easily install and activate the Rank Math SEO plugin by navigating to Plugins → Add New and then searching for in the right search box.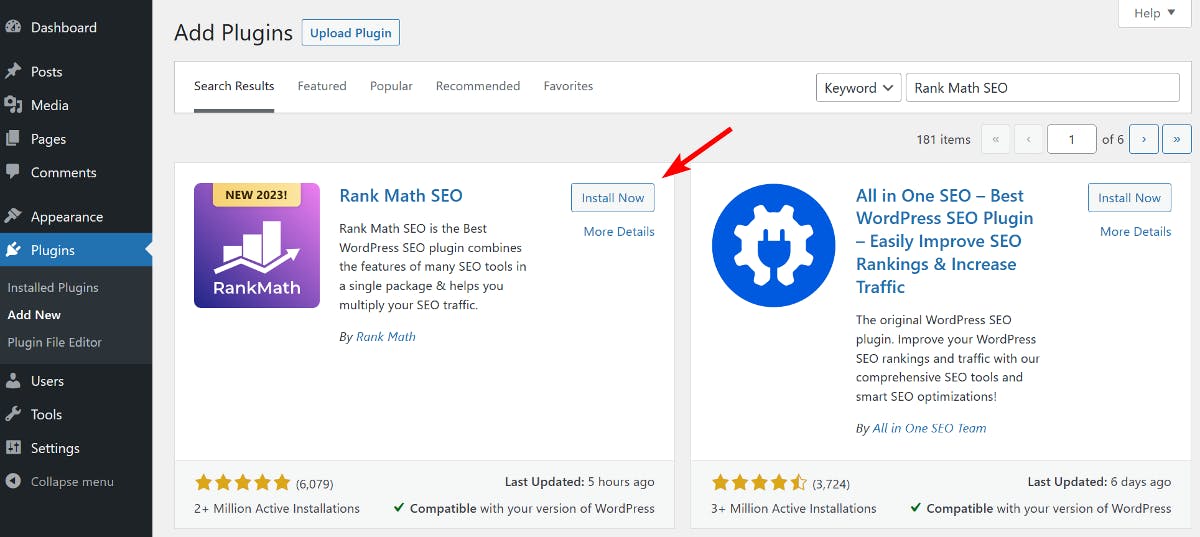 After installation, proceed with the setup wizard to enter the necessary details of your website.
Next, navigate to Rank Math SEO → Titles & Meta and look for Bio Links under Post Types. Here, you can adjust the title and meta description on a global level and specify which schema markup to use for your bio page.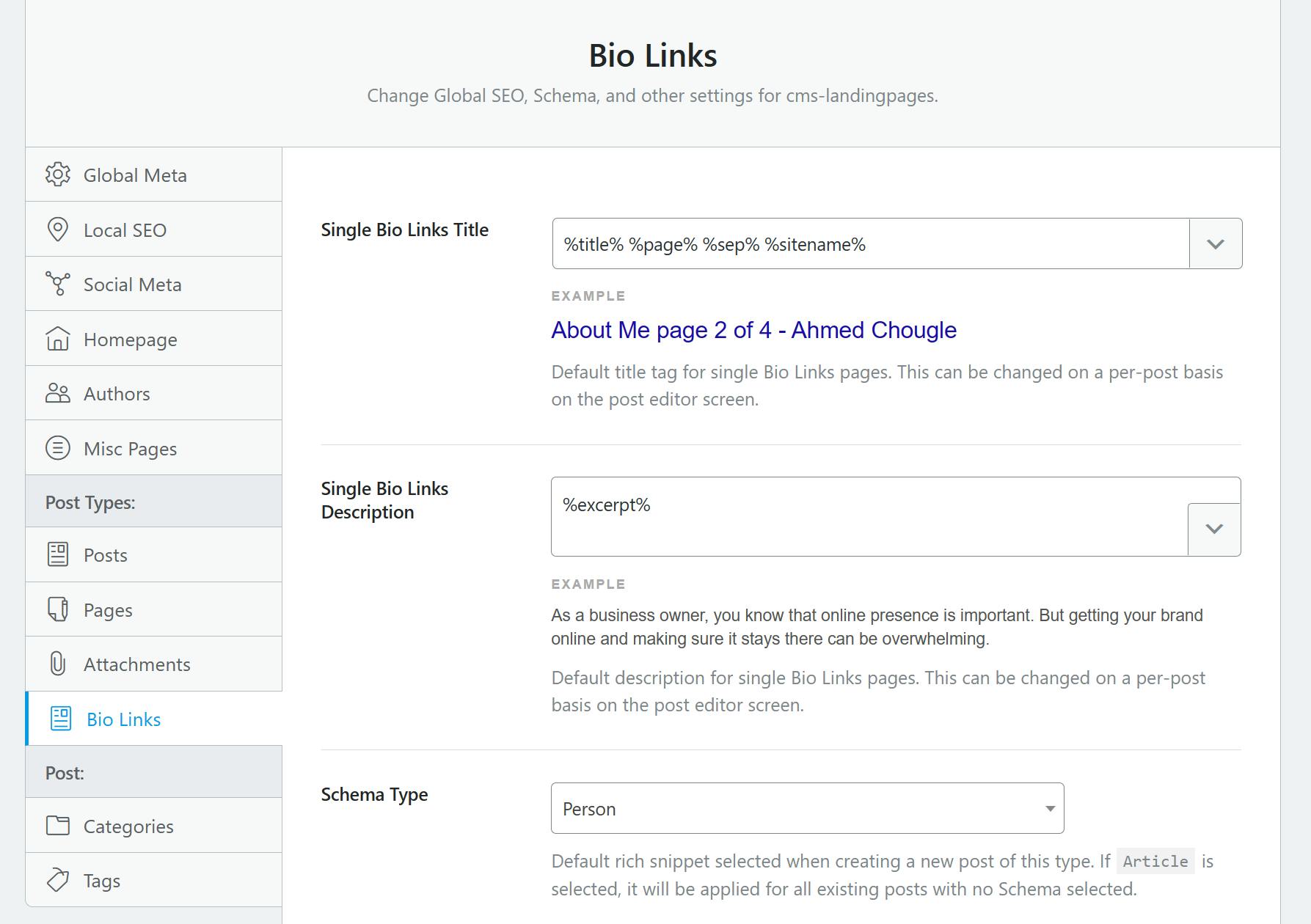 Moving on, go to Sitemap Settings and again look for Bio Links under Post Types. Ensure the toggle for Include in Sitemap is set to active. This will add your bio page to the website's sitemap which Google and other search engine bots can easily crawl.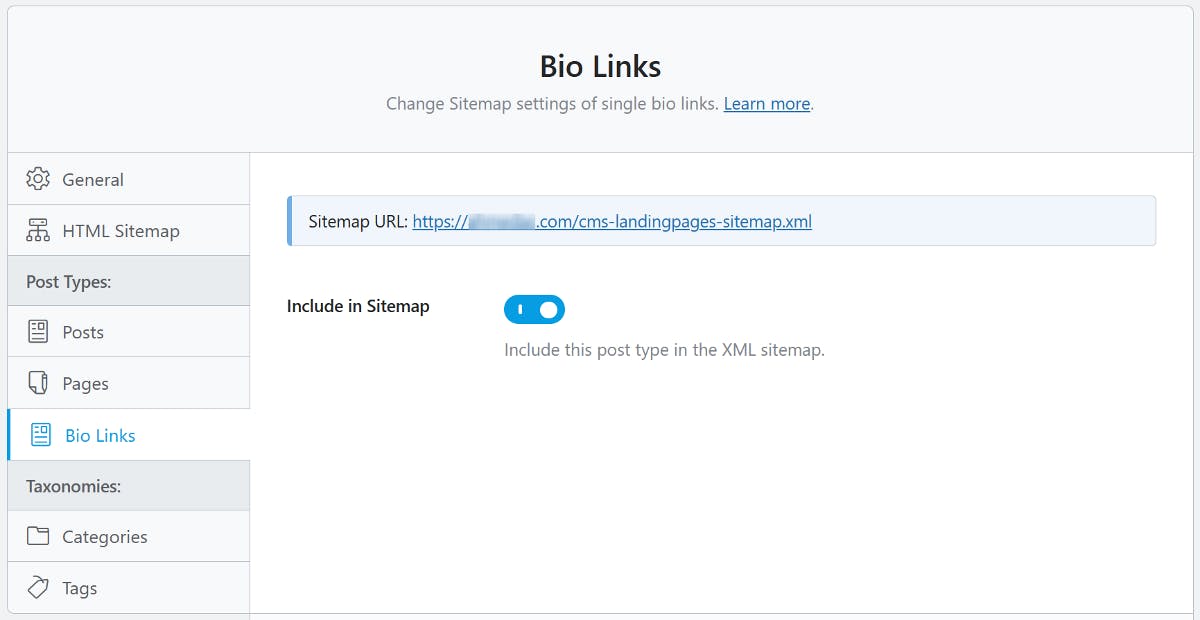 And with that, you're all set! Using Rank Math SEO or a similar SEO plugin, you can easily enhance SEO for your link in bio page created using Social.
Wrapping Up: Choosing SEO-Friendly Linktree Alternative for Your Bio Page
If you're using Linktree for your link-in-bio page, it's important to understand the impact it can have on SEO. While Linktree offers convenience, it lacks essential SEO features.
One great alternative to Linktree is the Social plugin. This WordPress plugin allows you to create a customizable and SEO-friendly link in bio page on your own domain. Not only that, but you can also use SEO plugins to further enhance SEO with schema markup, XML sitemap, Local SEO, and more.
Ready to take control of your link in bio SEO? Check out Social today!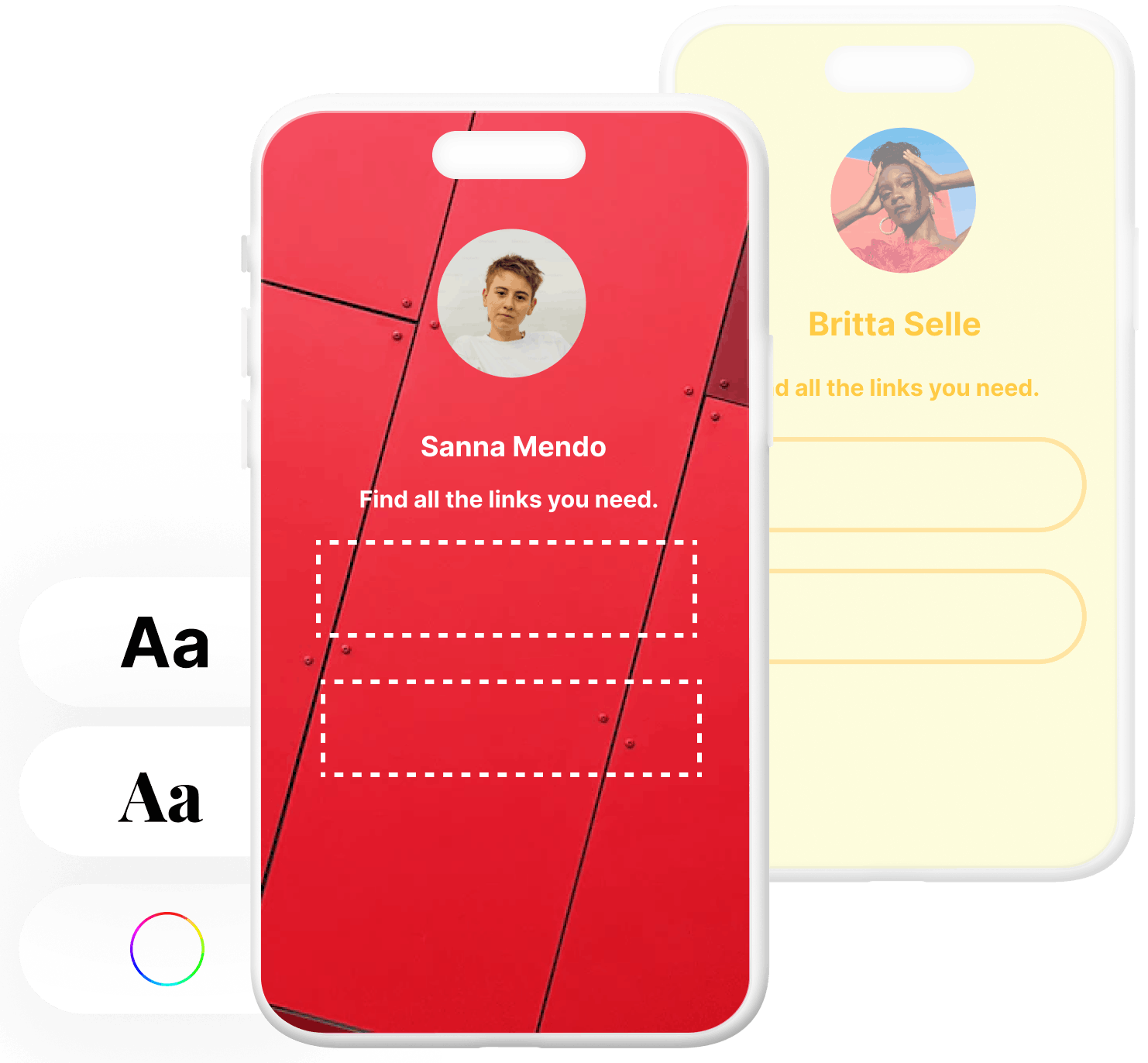 Level up your WordPress website with Social
Start your free trial today and see how you can benefit from fastest-growing bio link solution for WordPress.
Get started for free