Have you ever wanted to use a custom domain for your link-in-bio profile, but found that Linktree doesn't offer that option?
Link-in-bio sites have become a popular way for people to share all their links in one place using a single URL across social media platforms.
In this article, we'll be looking at Social, a great Linktree alternative that lets you use a custom domain for your bio link site.
Let's get started.
Why Use a Custom Domain?
A custom domain refers to using your own registered domain name for your link-in-bio site, rather than the default domain provided by Linktree. For example, instead of your page being at linktr.ee/username, you could use something like yourname.com.
This comes with some key advantages such as:
Professional brand image: A custom domain looks far more professional than a basic linktr.ee/username URL. This results in higher click-through rates and engagement.

Easier to remember and share: A custom domain is much simpler for people to recall and pass on than a complicated URL.

Better for SEO: The bio link is hosted on your own domain, which means your website benefits from all the high-quality backlinks to your bio site.
Now that we know the benefits, let's look at how to add it to your bio link site.
How to Add a Custom Domain to Your Link-in-Bio Site
Social is a Linktree alternative WordPress plugin for creating a customizable link-in-bio page.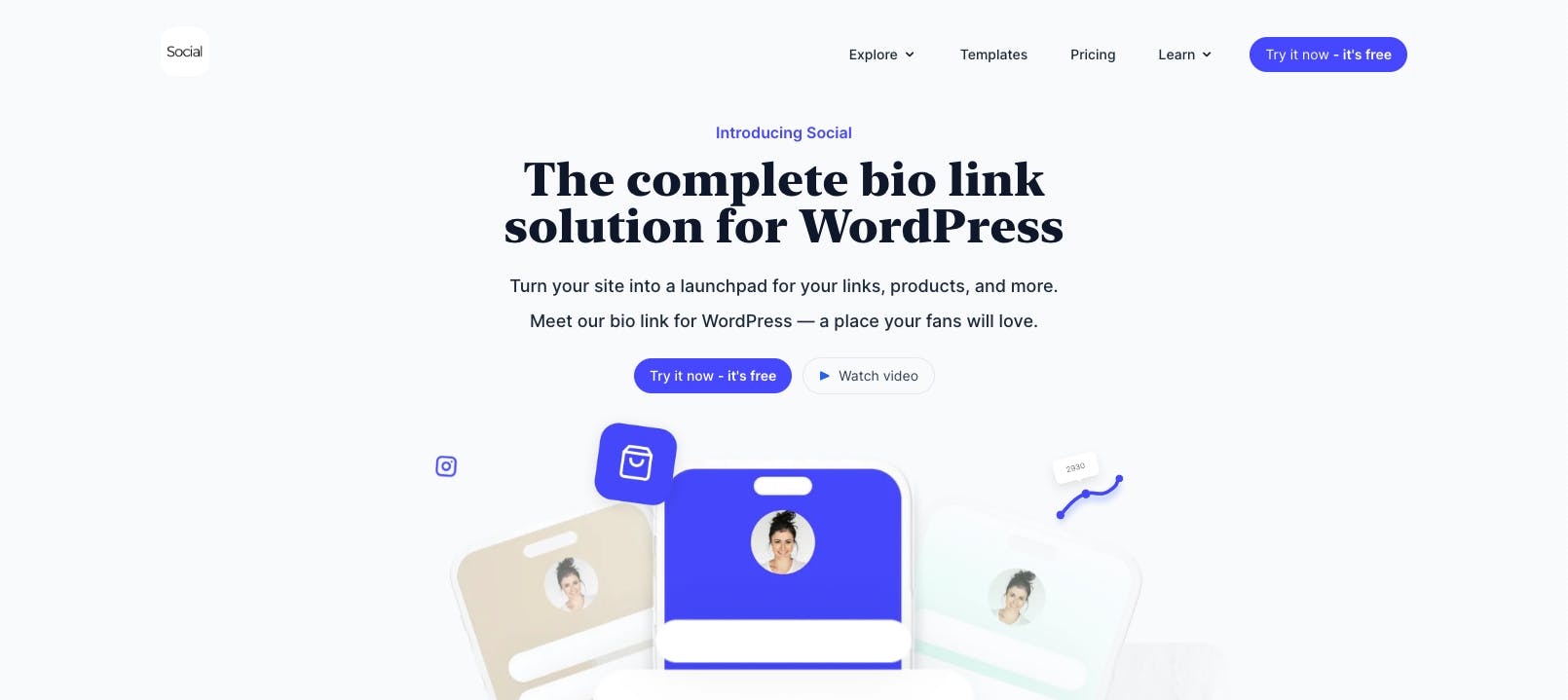 It lets you easily:
Use your own registered custom domain.
Create an eye-catching, on-brand link page with prebuilt templates.
Customize layouts and color schemes.
Embed videos, collect donations, add contact forms, share your latest blog posts, and more.
Obtain detailed analytics of your links.
Organize links into sections.
Unlike Linktree which limits your options, Social gives you full creative control and ownership over your link-in-bio site.
In this section, we'll walk you through the process of installing Social and connecting it to your custom domain to create a professional bio link page.
1. Purchase and Register Domain Name
The first step is to buy and register your desired custom domain name. For this, you can use a domain registrar like Namecheap. 
Go to Namecheap and search for your domain name. Make sure your preferred name is brandable and easy to remember.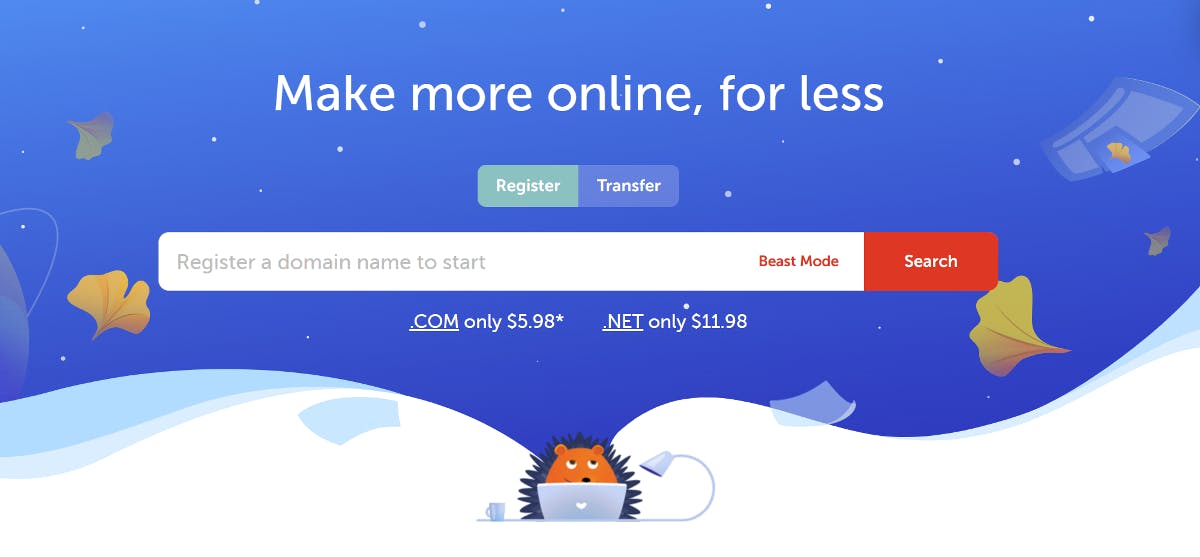 Choose a domain extension and add it to your cart. We'll recommend going with the .com extension if available. If not, you can choose anything that goes well with your brand.
Create an account and complete the domain registration process. Namecheap will now register the domain on your name which you can use for your bio link landing page.
Now that you've purchased your domain, it's time to install WordPress, which will host your Social link page.
2. Choose Hosting and Install WordPress
Social is a WordPress link-in-bio plugin, so you need your own hosting server to use it. We'll install WordPress on it which'll serve as the foundation for your link-in-bio website.
Popular hosting providers include Bluehost, SiteGround, and NameHero. Most hosting providers use cPanel, which allows you to install WordPress with a single click. If you're not sure how to install it, check out this website, which has instructions for all major hosting providers.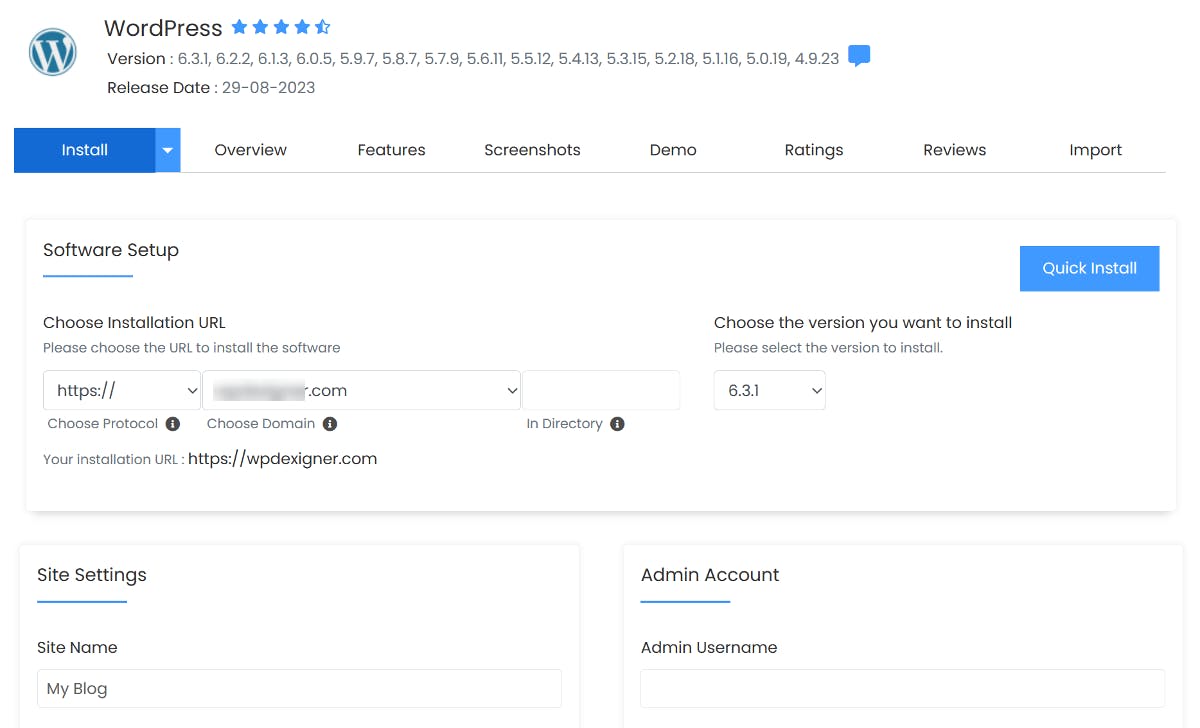 After the installation, you can access your WordPress admin dashboard by visiting your custom domain followed by "/wp-admin" (https://yourdomain.com/wp-admin).
3. Install the Social Plugin
Social is a premium bio link plugin that you can purchase from its website. Once you've got the file and license key, head over to your WordPress dashboard and go to Plugins → Add New.
Click the Upload Plugin button and then choose the plugin's file to install and activate it.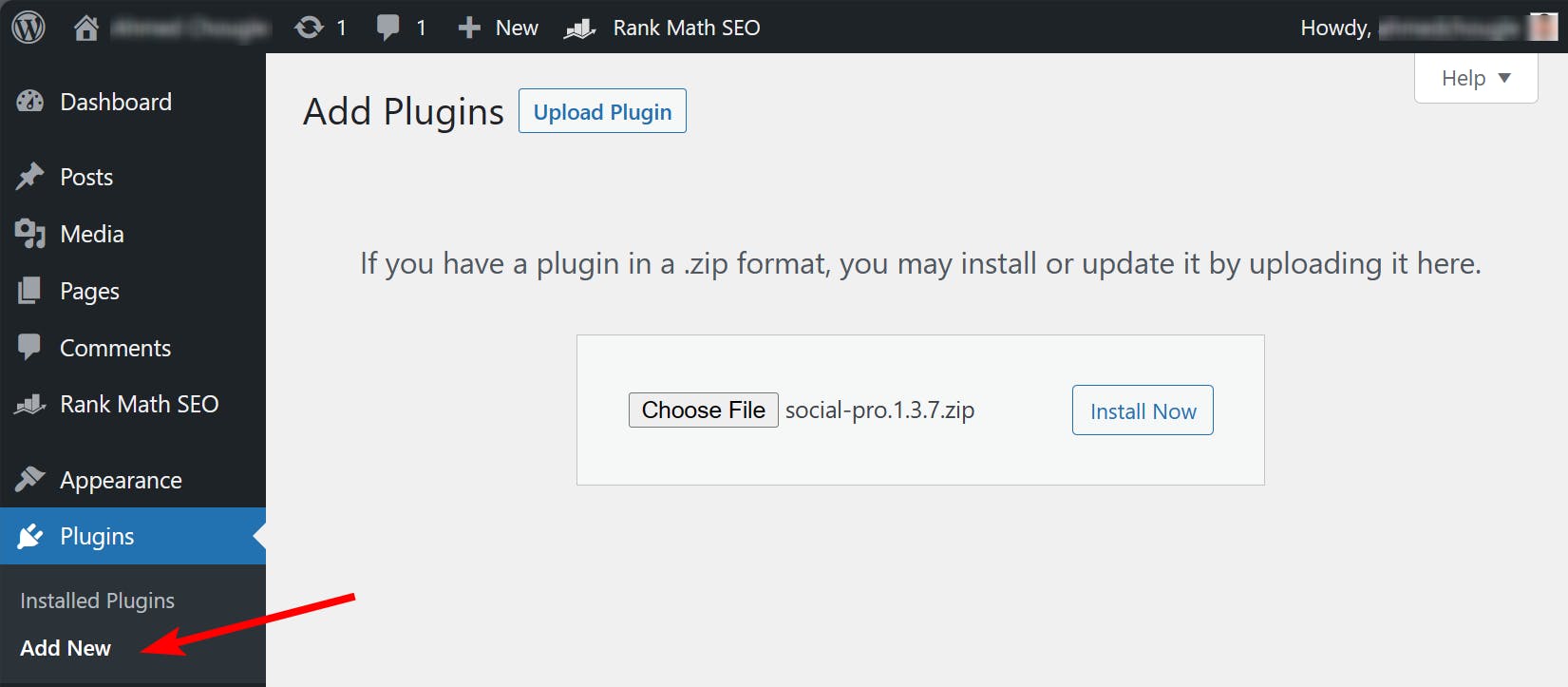 After activation, verify the license key to unlock all the Pro features. 
4. Add a Link-in-Bio Template
After verifying your license key, you will be taken to the Social templates page. It includes a number of professionally designed bio link templates that are fully customizable. They're categorized based on industry and niche, making it easy to find a template that matches your brand.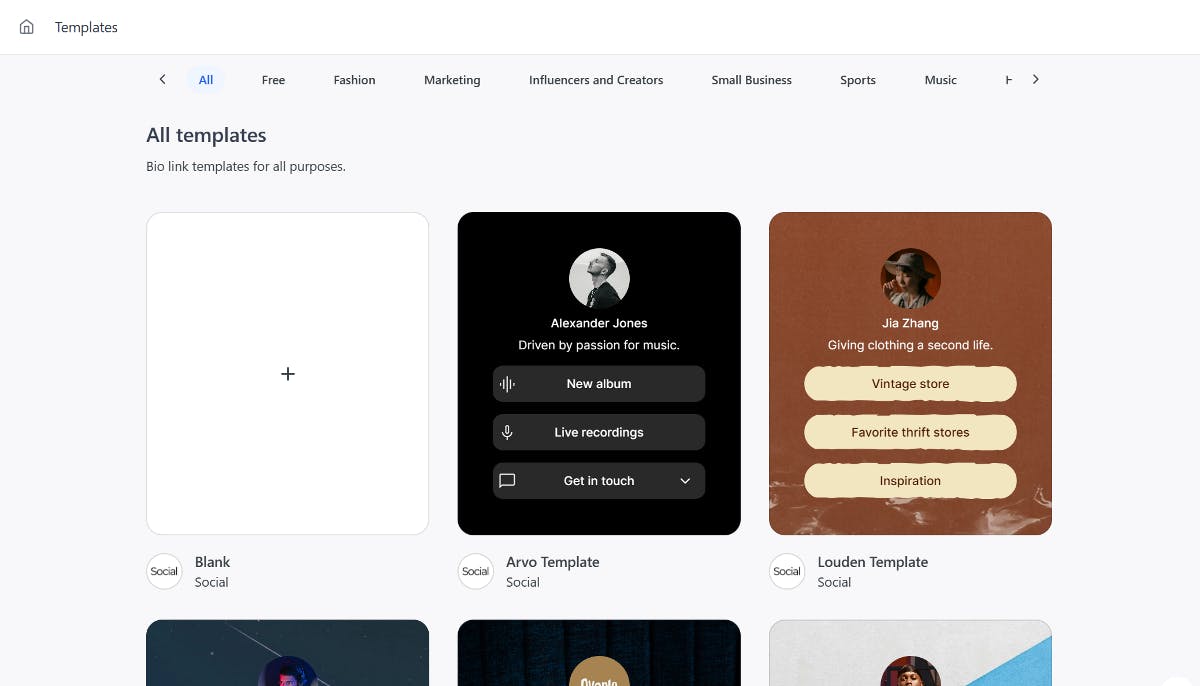 To get started, just click on one of the templates that catches your eye. This will open up a full preview of the template. Next, click the Use this template option to move to the next step.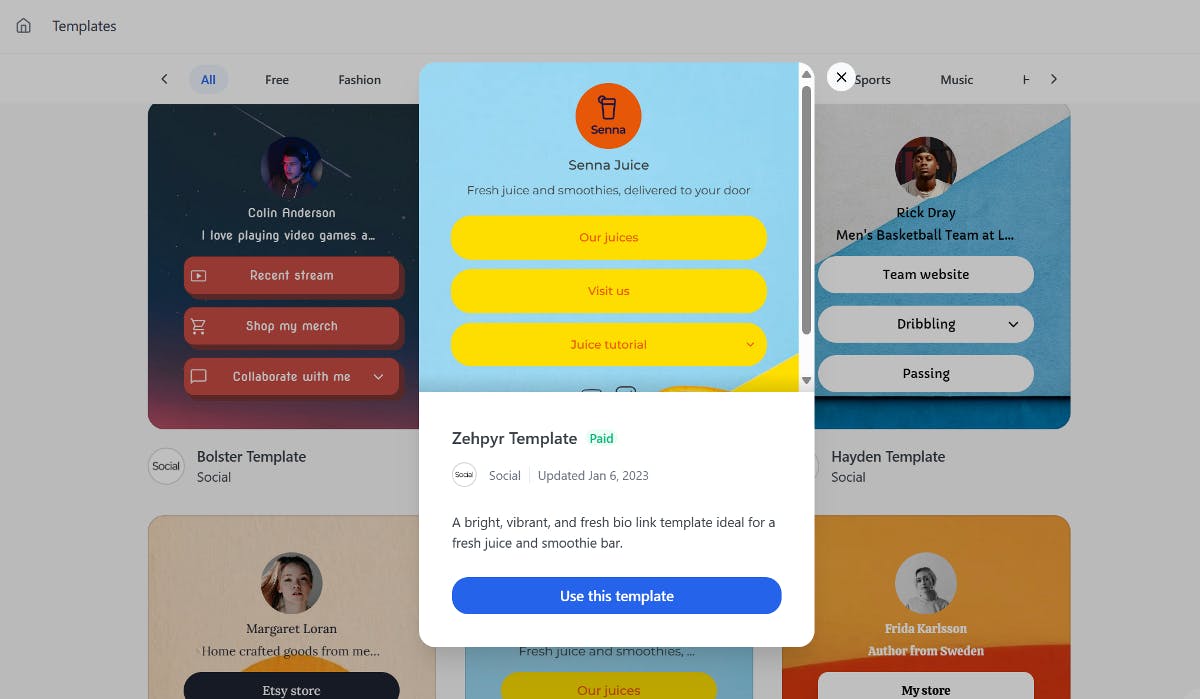 You'll now have the option to either add content from scratch or use the default one. 
Now it's time to personalize your bio link. To do so, upload your own logo by clicking the pencil icon.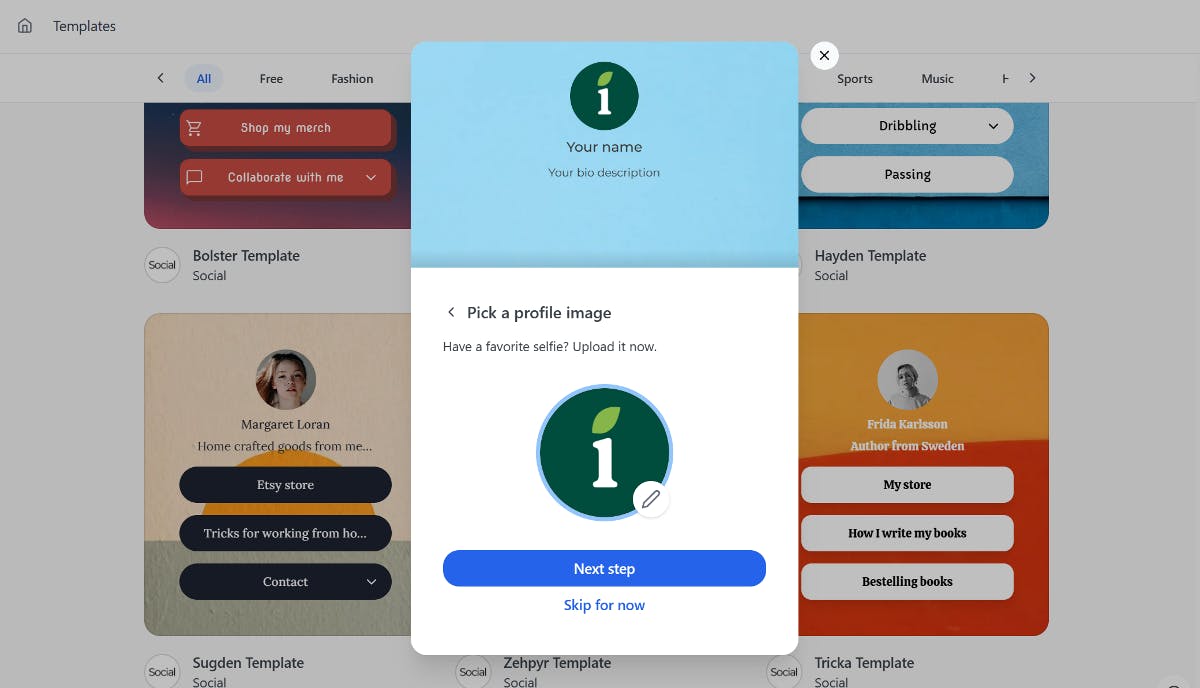 Next, add your brand name as the title, followed by a quick description of what you're all about.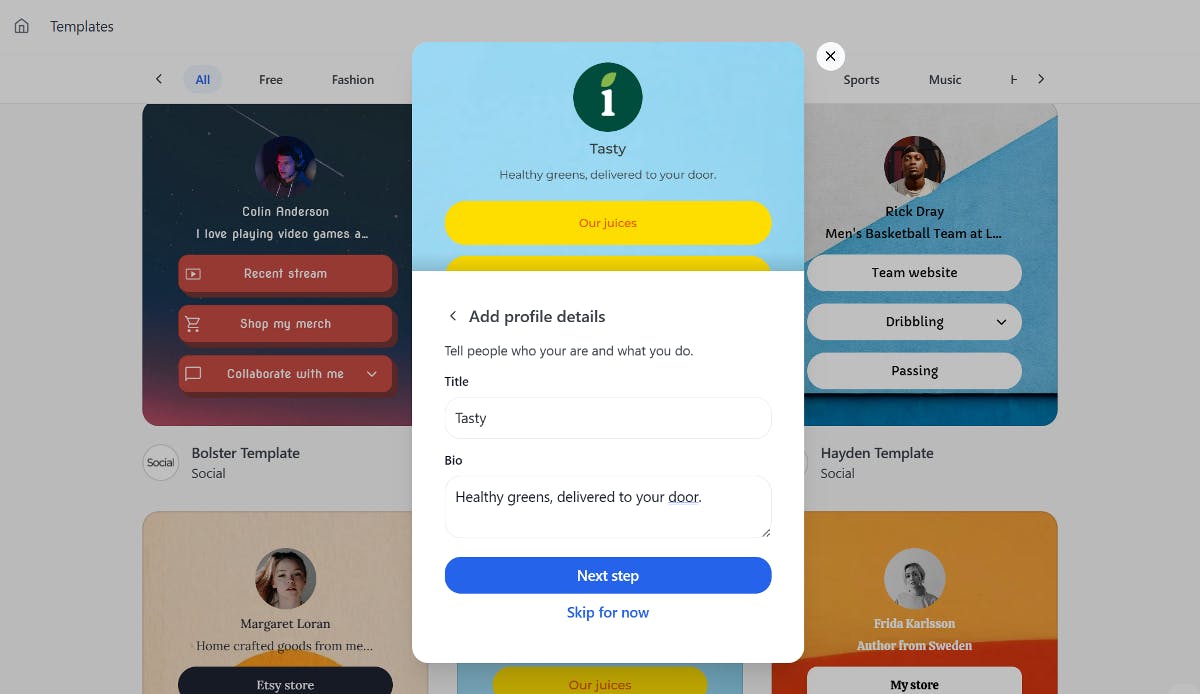 Lastly, it's time to customize the URL of your page. If you're using this website mainly for your bio link, you can set this page as your homepage. Or you're free to create a custom link.
Once you're satisfied with the changes, simply click on the Create bio link button, and voila! Your bio link page is ready.
5. Customize your Link in Bio Page
To customize your link in bio page, simply click the Continue to the editor button on the same page.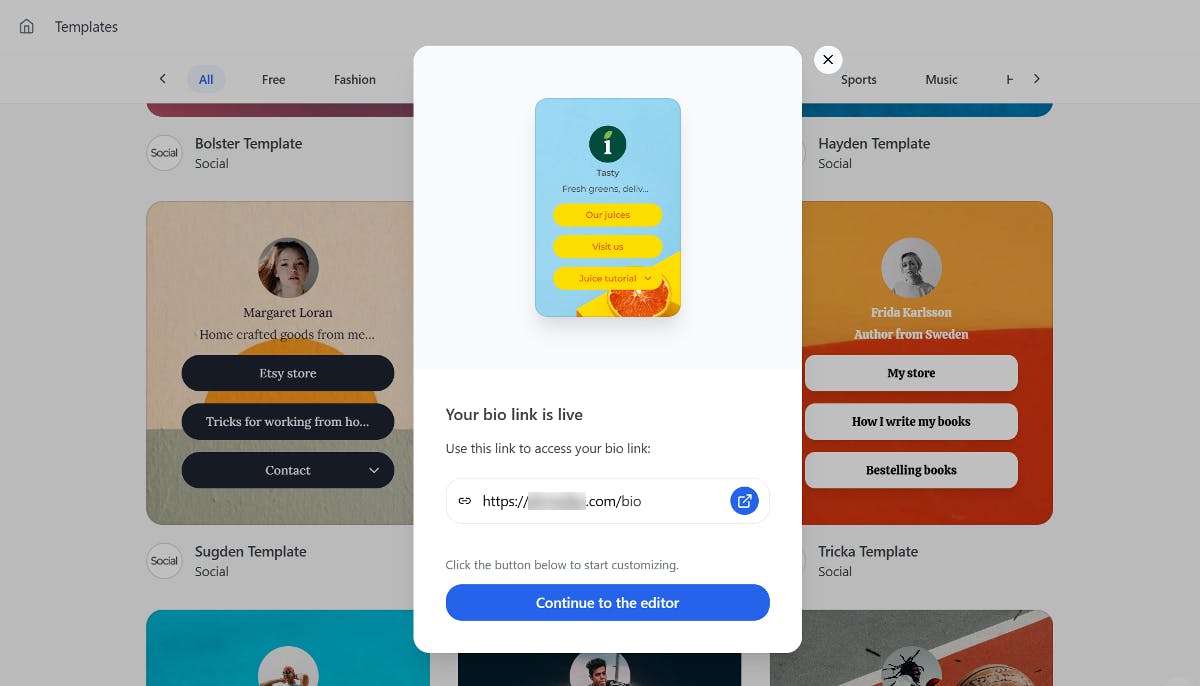 Once you're in the editor, you'll see some preadded links with a preview of your page. Don't worry, it's easy to make changes. You can edit the names of these buttons and add your own links to them.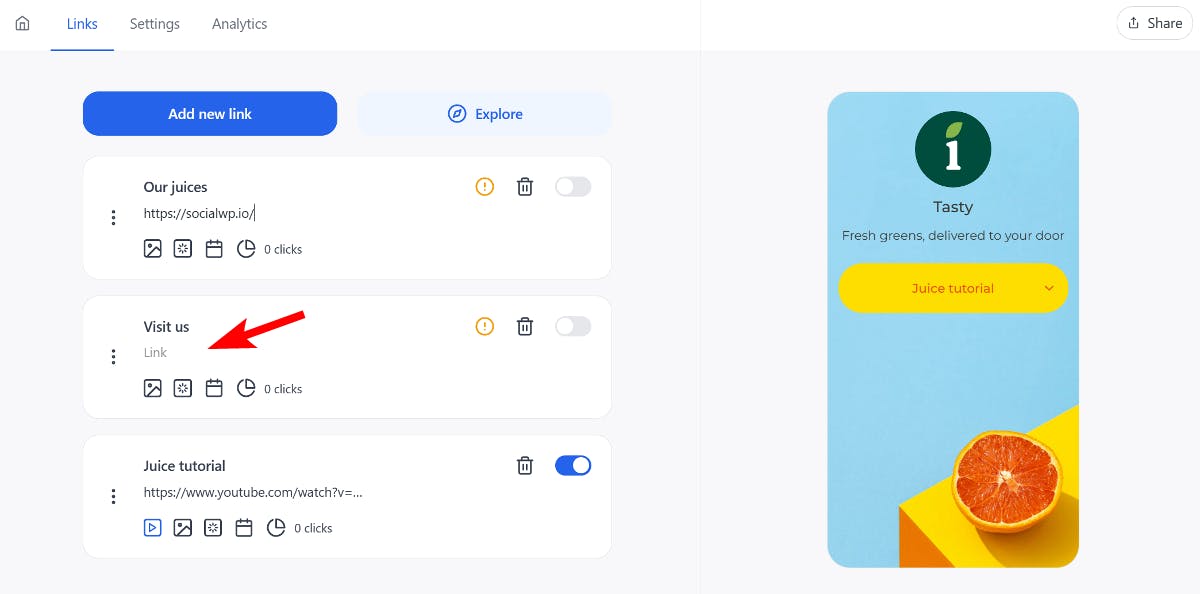 Not only that, but you can also add other types of links like YouTube, contact forms, donations, and more. To add them, simply click on the Explore button at the top, then select the type of link you wish to add.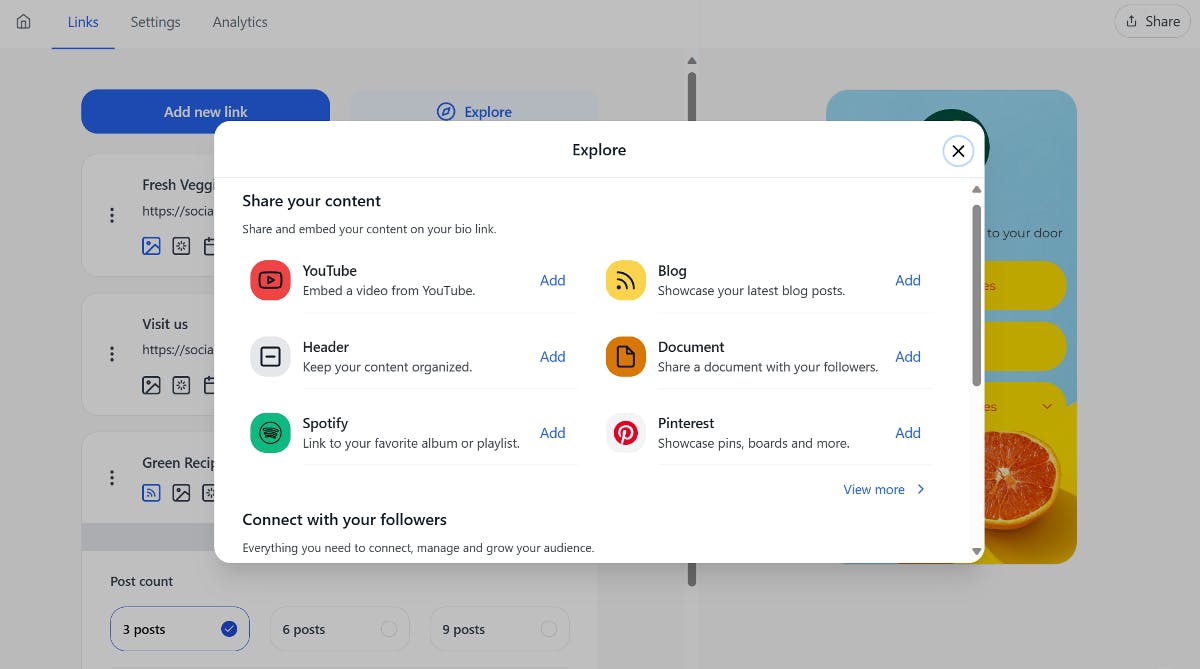 Social also lets you add an icon and an animation to give them some extra flair. Want to take it a step further? You can even schedule when these buttons will appear.
It also lets you customize the color, layout, and font of your bio link page. To do this, simply head over to the Settings tab. Take your time to scroll through each section one by one and make the changes.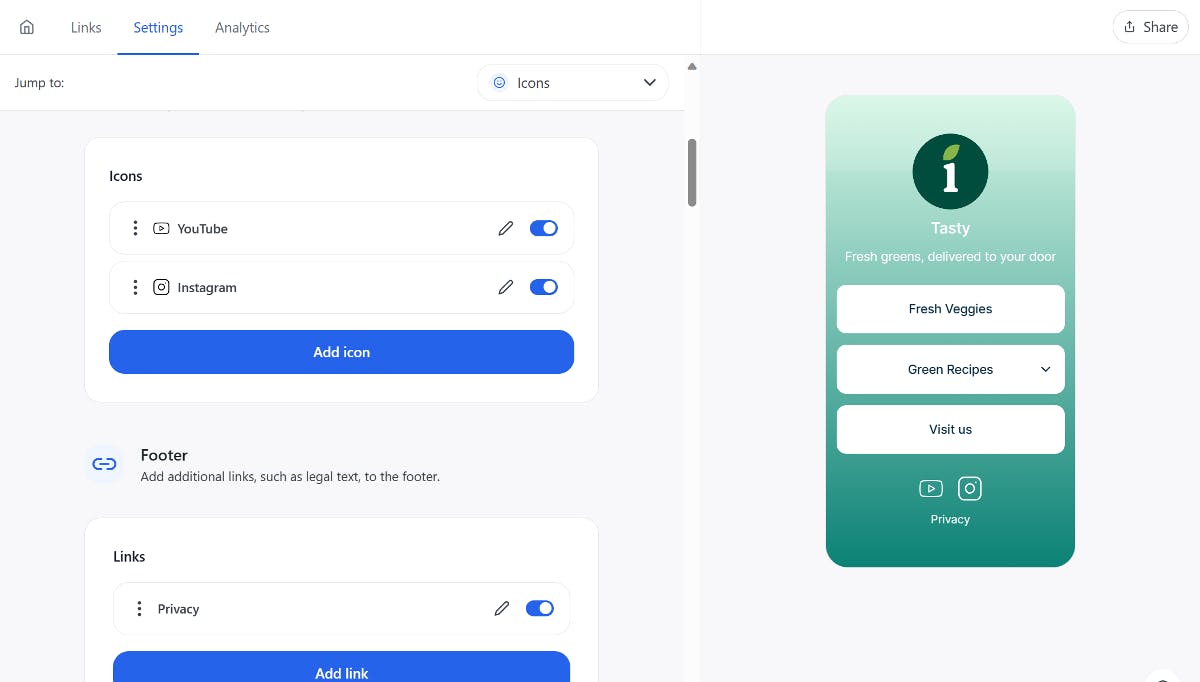 If you're not happy with the provided color style, you can also make use of AI to generate a color scheme based on a description.
That's it! Isn't it easy to create your link in bio site using Social?
Use Social To Add a Custom Domain to Your Bio Link Page
Adding a custom domain to your Link in bio provides a professional touch to your online presence. 
By using a Linktree alternative, such as Social, you can create a personalized bio link page that's hosted on your own domain.
Get started today with Social and add a custom domain to your link in bio page.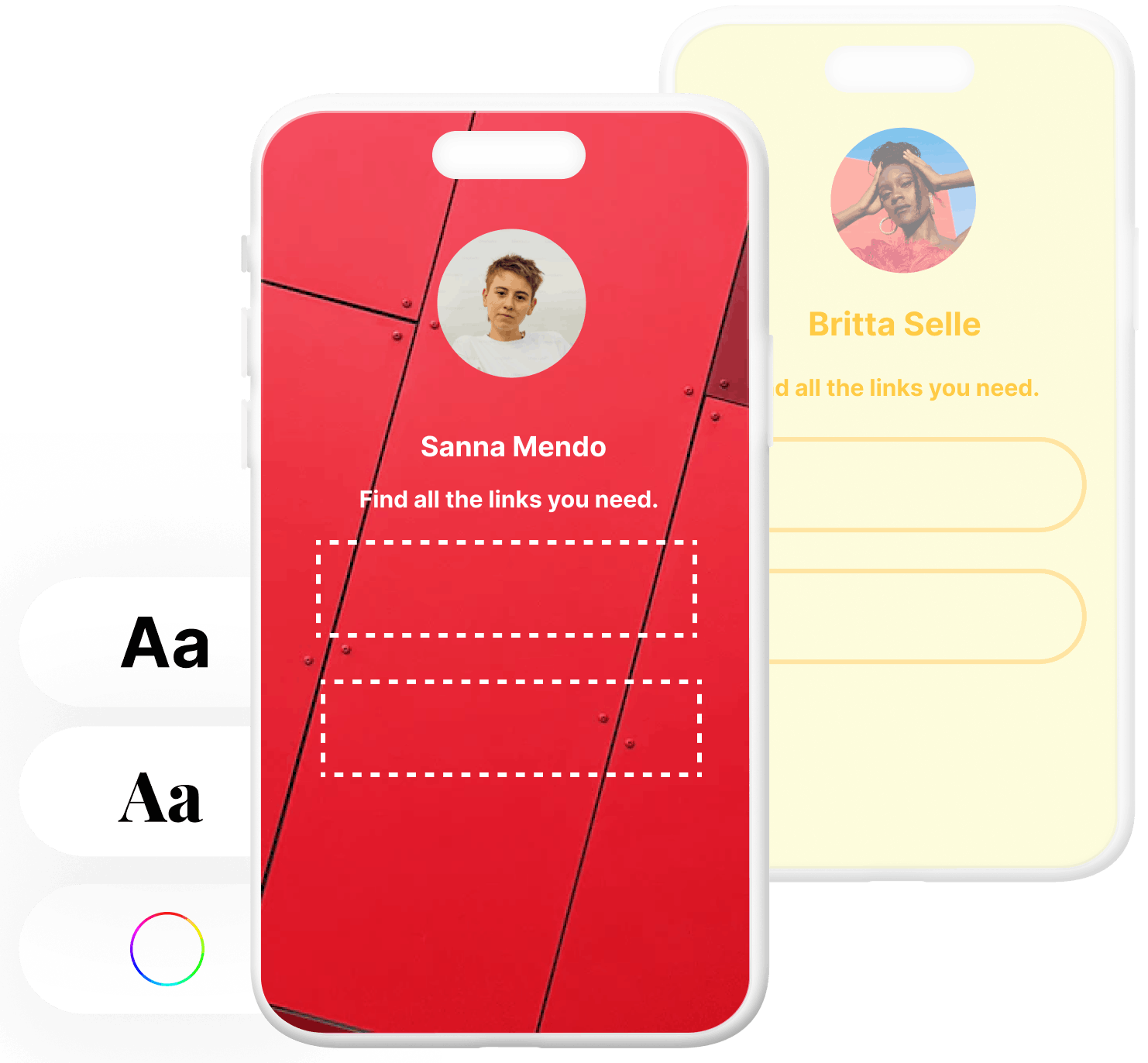 Level up your WordPress website with Social
Start your free trial today and see how you can benefit from fastest-growing bio link solution for WordPress.
Get started for free